BOOKING WITH US IS ALL ABOUT ADVANTAGES
Late check-out until 15 h (upon availability)
Traditional 3 stars hotel located at the city of Soria. The hotel was built in 2005. Surrounded by nature.

Hotel Campos de Castilla is a comfortable establishment that combines facilities recently built with a charming and typical Castilian style.

This rustic construction combination with impressive ceilings of solid wood and with modern and cosy spaces make the stay at the hotel the most welcoming possible. Surrounded by nature, from its spacious and equipped rooms you can see the fields that the poet Antonio Machado mentions on his book Campos de Castilla.

The hotel recreates also in its spaces the ambiguity that used the author to describe his vision of this wonderful landscape: reality and emotion. This is precisely what transmits every corner of the hotel: practical spaces that provide the most comfortable stay and also spaces with details that excite.

Machado mention these landscapes and they can be contemplated from the facilities of the hotel, with views to the known "Monte Valonsadero" and the "Picofrentes".

Hotel Campos de Castilla has also a restaurant where you can taste our Castilian gastronomy with roasted and grilled meat made the traditional way. One of the best restaurants of the area, it is ideal for food and wine lovers.

The calmness of the hotel is perfect to rest. Its location also allows you to enjoy a visit to Soria to know the different corners that characterize the province: Natural Park (Laguna Negra, El Cañón del Río Lobos), the historical Numancia (only 15 minutes away from the hotel) or the authentic and austere Castilian capital, 5 minutes away, with its Romanesque constructions (Santo Domingo Church, the arches of San Juan…).

From the hotel rooms you can enjoy its terrace or the wonderful views of the field and the landscape that often inspired the poet.

The hotel is located at the entrance of the city of Soria, direction to Logroño.

In the vicinity, you can practice horse riding, golf or go for a relaxing bike ride or make a wide selection of tourism activities surrounded by nature.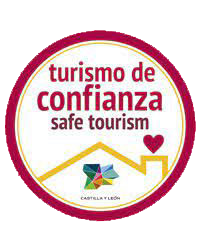 8 8